As a chiropractor, you're well aware of the pivotal role high-quality radiology imaging plays in your practice. This rings true whether you're operating in a specialized chiropractic clinic, a general radiology imaging center, an urgent care setting, or even within a larger hospital system.
These environments each hold unique imaging demands, and your X-ray equipment should rise to the challenge. With this in mind, Patient Image has carefully vetted and compiled the top six chiropractic X-ray systems and panels of 2023, aimed at helping you make an informed decision for your unique practice.
Our Top Picks For Chiropractors
Best Overall Chiropractic System: Chiropractic Tilting Upright and Extremity System
Best Portable System: Chiropractic X-Ray Portable System with Stand
Best Floor-to-Wall Non-Rotate Tube Stand: Chiropractic X-ray Upright System with F/W Tube Stand
Best Tethered 17x17 Chiropractic DR Panel: Digital X-Ray Panel - 17 X 17 Tethered
Best Tethered 14x17 Chiropractic DR Panel: Digital X-Ray Panel - 14 X 17 Tethered
Best Wireless 17x17 Chiropractic DR Panel: Digital X-Ray Panel - 17 X 17 Wireless
Best Complete Chiropractic X-Ray Systems
We've divided our selections into three categories, each catering to specific needs - Best Overall, Best Portable, and Best Floor-to-Wall Non-Rotate Tube Stand. Let's begin!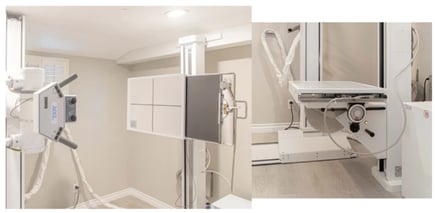 Introducing the ChiroImage 4 - Chiropractic Digital X-Ray System, our pick for the best overall chiropractic system. This 40kW, 500mA, APR system comes with a floor-to-wall non-rotate tube stand, perfect for a range of ceiling heights. It features a 17x17 inch CsI tethered, cassette size DR flat panel detector with advanced acquisition software. Its versatile wall stand with tilt, grid cabinet, and a powerful 140,000 heat unit X-ray tube offer power and flexibility great for any practice.
Pros
The ChiroImage 4 excels with its robust power capacity, versatile tilt wall stand, and high-quality DR flat panel detector. A floor-to-wall non-rotate tube stand accommodating various ceiling heights and a certified manual collimator amplify its appeal.
Cons
While the system boasts many strengths, its wired interface may limit flexibility in some setups, and its weight and size could be cumbersome for smaller spaces.
Who's This For?
This system is ideally suited for busy chiropractic practices that require reliable and high-resolution imaging.

Presenting the ChiroImage 1 - Chiropractic Digital X-Ray System, our choice for the best portable system. Boasting a touchscreen console, it offers 0 kW, 100 mA, 125 kVp, and high-frequency ripple. This portable powerhouse allows customization across six APR regions. Its stand-on wheels, gas spring arm, and light weight make maneuverability and positioning a breeze. And with its 17x17 inch CsI tethered, cassette size DR flat panel detector, you can expect top-quality imaging on-the-go.
Pros
The ChiroImage 1 shines with its touchscreen console, customizability across six APR regions, and impressive portability. The system's high frequency ripple ensures high-quality imaging, while its gas spring arm enables easy positioning.
Cons
Its wired interface might pose mobility challenges in certain setups. Additionally, its requirement for a solid 20 amp breaker on a 110V line for full power could be a constraint in some scenarios.
Who's This For?
This system is ideal for chiropractic practitioners who need to move their X-ray systems frequently - a top choice for clinics requiring flexibility.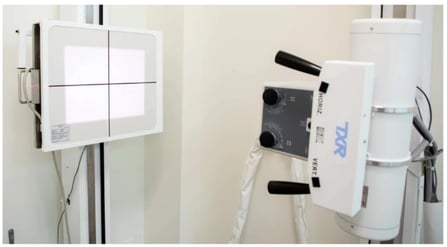 Meet the ChiroImage 2 - Chiropractic Digital X-Ray System, our pick for the best floor-to-wall non-rotate tube stand. Equipped with a sturdy platform tube mount and operator-friendly handles, this system provides impressive vertical and longitudinal travel. The manually lockable tube angulation and electric lock for travel movements ensure maximum precision. With the 17x17 inch CsI tethered, cassette-size DR Flat Panel Detector, your chiropractic imaging will be clear, detailed, and reliable.
Pros
The ChiroImage 2 offers exceptional operational ease with a manual tube angulation lock and electric lock for travel movements. The versatile fitting in varying ceiling heights and high-quality imaging from the 17x17 inch CsI tethered detector add to its utility.
Cons
The non-rotating tube stand may restrict some positioning angles, and the wired interface might limit flexibility in certain clinic setups.
Who's This For?
This user-friendly system is perfect for chiropractic clinics seeking stability, precision, and consistent performance.

Best Chiropractic DR Panels
Let's shift gears to focus on another crucial element of the chiropractic imaging ensemble: Digital Radiography (DR) Panels. Our top selections deliver unparalleled imaging quality, including the Best Tethered 17x17, Best Tethered 14x17, and the Best Wireless 17x17 Chiropractic DR Panels.
Best Digital X-Ray Panels for Chiropractic X-Rays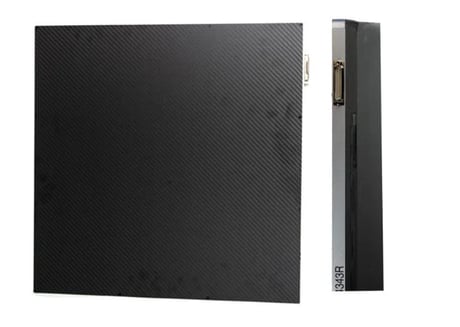 Meet our choice for the best tethered 17x17 chiropractic DR panel, a CsI tethered DR flat panel detector offering top-notch acquisition software and PACS. Its slim and light design and carbon fiber protection plate ensure durability. A massive 3040x3036 pixel matrix and 16-bit A/D conversion offer high resolution and clear imaging. Compatible with a wide X-ray voltage range and offering a convenient wired interface, it's a high-quality solution for tethered chiropractic imaging needs.
Pros
With its compact size, impressive 3040x3036 pixel matrix, and broad X-ray voltage range, this DR panel provides high-resolution images. Its carbon fiber protection plate enhances durability, while the advanced acquisition software ensures seamless operation.
Cons
As a tethered DR panel, it requires a wired connection for operation. This might limit its usability in scenarios where mobility and flexibility are crucial.
Who's This For?
Ideal for chiropractic practices prioritizing high-quality imaging and durability, this panel is perfect for stationary setups.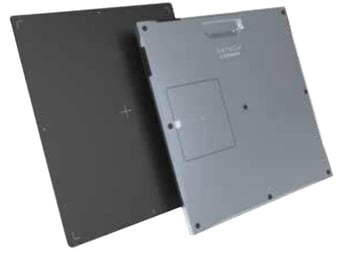 This 14x17 tethered DR Panel stands out as a compact, versatile choice. This device boasts a 2560x3072 resolution for sharp, precise images. Integrated with automatic parameter selection and specific anatomical post-processing, it streamlines image acquisition and interpretation. Additional amenities like two batteries, a charger, and a backup cable ensure uninterrupted operation.
Pros
Boasting high resolution and versatile size, this 14x17 tethered DR panel captures precise images for enhanced diagnosis. Its compatibility with PatientImage software and automatic parameter selection facilitates smooth operation, while the included batteries and backup cable ensure constant power supply.
Cons
Despite its compactness, the device's weight of nearly 3 kg might be too heavy for prolonged use.
Who's This For?
This comprehensive and versatile panel is ideal for chiropractors prioritizing high-resolution imaging in a compact package.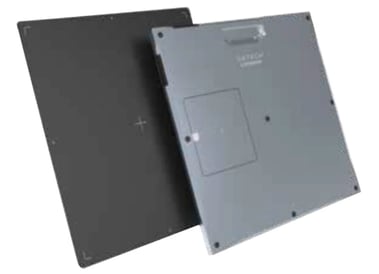 This wireless 17x17 DR panel provides chiropractors with the ultimate flexibility, offering freedom of movement without compromising on image quality. Its active area of 17x17 inches captures comprehensive images, also featuring a lossless AED/AWC X-ray sync feature and a robust data interface for reliable performance.
Pros
This DR panel provides excellent image resolution and wireless convenience.
Cons
The wireless function may be susceptible to interference in some settings.
Who's This For?
This DR panel is for chiropractic professionals who value high-quality imaging and wireless freedom. Its cutting-edge features suit practitioners who prioritize workflow efficiency and accurate diagnostics.

What To Look for When Buying an X-Ray System for Chiropractors
Complete Systems vs Retrofitting
When investing in an X-ray system, you must decide between a complete system or retrofitting your existing one. While a complete system offers seamless integration of components, retrofitting can be cost-effective and allows utilization of existing resources.
Functionality
Consider the functionality that suits your practice. Aspects like system portability, stand design (floor-to-wall or ceiling-mounted), and control options (touchscreen or console) can greatly impact your day-to-day operations and patient experiences.
Demand
The patient volume and the types of treatments you provide will influence your choice. Higher patient volumes might require systems with quicker image processing and larger storage capacities to handle the demand.
Manufacturer
Research the manufacturer's reputation. Check for customer service responsiveness, warranty policies, and technical support availability. Consider also if they have a track record of consistent product updates to keep your practice at the cutting edge of technology.
FAQs
How Much Do DR Panels for Chiropractic Practices Cost?
The cost of DR panels varies greatly based on size, tethering, and brand. Generally, prices can range from $10,000 to over $30,000. It's crucial to consider not only the upfront costs but also the long-term operating costs.
How Can I Find Affordable DR Panels for My Chiropractic Office?
To find affordable DR panels, research various manufacturers, consider refurbished equipment, and check for finance or lease options. Pay close attention to warranty and service plans, as these can also affect the overall costs.
How Do X-Ray Systems Help Chiropractors?
X-ray systems provide chiropractors with valuable diagnostic information, revealing spinal misalignments, degenerative changes, or potential contraindications to certain treatments. These insights guide treatment plans and help track patient progress.
Why Do Some Chiropractors Use X-Ray But Some Don't?
Use of X-rays in chiropractry varies based on practitioner preference, patient need, and treatment style. Some chiropractors use them routinely for diagnosis and treatment planning, while others may rely more on physical examinations and patient history, reserving X-rays for specific cases.
Looking to Finance a Digital X-Ray for Chiropractors? We Can Help!
At Patient Image, we understand that investing in a Chiropractic digital X-ray system is a significant financial decision. That's why we offer excellent in-house financing options tailored to your needs. Over 80% of our customers take advantage of these finance options. We provide affordable monthly payments with terms up to 84 months and $250k without needing your financials.
As our financing is business-based, it won't show up on your personal credit. We cater to all credit types, startups, and even non-MD-owned businesses. Reach out to us and explore our financing options today!